Blog 13


I suppose we should count ourselves lucky – we supply wines to Super Yachts here in the Mediterranean and obviously have access to a myriad of wonderful French & Italian wines, can just about get anything from anywhere with a bit of notice. But for any charters heading to Croatia this Summer, things are not quite so easy! Our marvellous Partners there are Alessia & Marin of Yacht Gourmet Croatia
They endeavour valiantly to get you the Wines the guests have asked for but it can be a struggle! Things should get a whole lot easier when trade barriers fall in 2013 and Croatia joins the EU but in the meantime, YGC asked us to taste through some of the very best local wines that they would be able to supply to those adventurous Yacht guests who want to sample the indigenous stuff! Here is a summary of the stars of the show:
All the wines are covered by the Vrhunsko Vino classification and so are all top quality wines.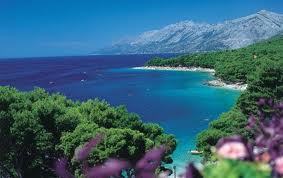 Whites
1. Traminac "Ledena Berba" (Ice Wine) 2008
Producer: Iločki Podrumi
This remarkable cellar supplied wines drunk at Queen Elizabeth II's Coronation so quite a history! The Traminac grape is more familiar to most of us as "Gewürztraminer". Honeyed, smooth and delicately floral, not as bold and brassy as a Sauternes – one for lovely fresh fruit and berry desserts.
2. Goldberg Golden Selection Chardonnay 2008
Producer: Vinogorije Baranja
There is a bit of residual sugar in this wine – they blend a little sweet wine in with the straight Chardonnay so if you are expecting a Puligny Montrachet "look alike" then beware – this is off-dry BUT a luscious, rich and spicy mouthful with lots of tropical fruit. This could stretch to a match with sweeter seafood like scallops or with fruity salad – I mean melon & parma ham type combos!
Reds
3. Goldberg Golden Selection Cabernet Sauvignon 200
Producer: Vinogorije Baranja
A real blackcurranty blockbuster – this one is more akin to a modern New World fruit driven style. The tannins are restrained which makes it really approachable and easy to drink. Big flavour profile so one for robust grills and BBQ's
4. Festiga Riserva Cabernet Sauvignon 2009
Producer: Vino Laguna Istria
Very jammy, spicy and bold – cooked black fruits, liquorice and slightly earthy undertones. Almost like a Super Tuscan style – not a shy little red!