After 17 years working on yachts, Hazel made the decision to finally hang up her "yachtie" shoes and become land based in Mallorca where she first arrived in 1997. Having trained many new recruits and budding stewardesses (a few budding Stewards too) over the years and recognising there was a huge gap in the market for interior crew training and support here in Mallorca, the idea of the VIP Service School was born.
She believes her first hand experience, gathered over many years on both motor and sail, large and small, will be of benefit to others. Her career took her all over the world working on private and charter yachts with owners and guests of many different nationalities. Her last placement being over five years for a Lord and Lady where she worked on the build and launch of their new Feadship, followed by world cruising. Pre-yachting she worked in Office and Human Resource Management as well as being Personal Assistant to a CEO within the Oil Industry in Scotland.
Although having fallen into the yachting industry by accident after a long career in the oil industry and thinking it temporary, she knows that it is possible for interior crew to have a long term, challenging and rewarding career within the industry rather than it be a "gap year" fill in. Believing in the benefits of training, she is passionate about sharing her hard earned knowledge with others, giving new crew a helping hand to get a good start in the industry and be the best they can be.
Your Wine supply & Provisioning needs in Croatia sorted! This season we are continuing our Partnership with Yacht Gourmet Croatia, ensuring that you continue to get the best advice, service and, most importantly, WINE & Provisions when you leave the French Riviera and head for the beautiul Dalmation coast.
Alessia and Marin of YGC have been building a loyal and resolute customer base in Croatia for a long time, and we like to think we recognise a little bit of ourselves in them. Like us, they are a determined, young and independent business, whose staff offer a very personal service and who will go as far as we do to meet your needs!
If you are planning to visit Croatia with owners or charters this season, just let us know and we will alert Alessia and Marin to your imminent arrival. Together we will work extremely hard to make sure that you get what you want, wherever and whenever you need it!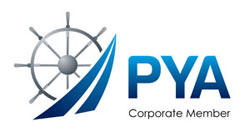 FWW are proud to be a Corporate Member of the Professional Yachting Association. We are also actively involved in the Working Sub-Committee driving the ground-breaking initiatve to standardise accredited Training for Interior Crew. The WSET® Wine Training courses offered by FWW are recognised and recommended by the PYA.