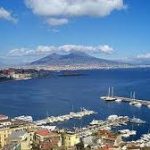 "Niiice", my friendly  Italian waiter declared, as I informed him of my choice of the Chianti Classico. I was relieved and grateful that he spoke reasonable English, but had to suppress a smile as he hurried off to the kitchen, in full bow-tie and tux, like a tanned Latin penguin, sporting the obligatory six o'clock shadow.
I was on the first evening's stopover on a marathon delivery from Vence to Naples, had done 700km that day, and was enjoying tucking into a mouthwatering plate of freshly carved Parma Ham and buffalo mozzarella. Damn it was good. An hour or so later, as I reclined having polished off my cheese, I was presented with some kind of funky Italian digestif. Herbaceous is the word. It was comparable to a shot of extremely viscous pine-scented floor cleaner.
Having slept like a (very tired) baby that night, I was relieved to see the van, housing its precious cargo, still in one piece in the car park the next morning. I skipped colazione and got straight on the road. With 150km still to negotiate I was leaving nothing to chance. The early morning summer sun cast crisp shadows across the landscape as I programmed a bit of Rod Stewart onto the ipod. Grab ticket, barrier up, autostrada here we come. A short while later, having been treated to a veritable orgy of seventies pop, the countryside slowly gave way to the city, the expanse of the port came into focus, Sat Nav Lady started to clear her throat.
I had heard that Naples was quite an 'interesting place', but had no idea that was a euphemism for 'full of potholes, minimal road markings, and a kind of every man for himself kamikaze approach to driving.' Desperate to get to my destination with the van's exterior unblemished, I put Rod out of his misery in order to concentrate fully on the traffic, mopeds coming at me from all angles, like wasps buzzing around a jar of honey. It's fair to say that I have a love-hate relationship with Sat Nav Lady. She sometimes likes to politely inform me that I 'have missed my turning, please make a U-turn', which makes me want to reach into the dashboard and strangle her, but on this occasion, as she declares that my destination is 'on the right' I blow her a little kiss. It's a long way to Naples, and I'm there on time. Phew.
Unfortunately the boat, fairly conspicuous little blighter, is nowhere to be seen. It's on its way from Capri, I am told, so I find a small café and prepare to kill some time. Rudimentary is the best word to describe my grasp of Italian, so I stick with what I know and casually request a doppio espresso per favore, and throw in a quick prego for effect. Lord only knows what is said back to me, but the transaction is completed fairly seamlessly nonetheless.
Late morning and the yacht inches slowly into view on the horizon, despite the glare of the fierce Neapolitan sun overhead. I move the van into position and wait. The tender is on its way I learn, and sure enough a sleek looking speedboat soon pulls up at the quay. I change from vest and sandals into my battle gear of FWW polo and deck shoes. "Don't bugger this up" I think to myself, as I pass the first box of champagne to the crew. "I certainly haven't come all this way to drop a bottle on the quayside!"
Forms signed, forms stamped, my work here is done. Me, Rod and Sat Nav Lady are back on the road. Chianti will be my stopover tonight. My mission to get a cold beer in my hand before sundown.
This wasn't a usual delivery, completely the opposite in fact. But at our company we are blessed with very loyal customers, who place a great deal of trust in us to get their wine to them on time. If that means driving to Naples, then so be it. If that means imbibing enough roadside coffee to keep you awake for a month then so be it. Happy customers make repeat customers, and this time we literally went the extra mile.