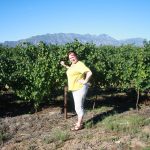 The adventure continued as we set out to explore further than the immediate wine regions around Cape Town. Heading out to Robertson, a Restaurant attached to a very small boutique Winery, Fraai Uitzicht run by two smiling orange clad Dutch people gave us our first experience of Smoked Wart-hog Carpaccio with Blue Cheese Ice-cream washed down rather splendidly by de Wets Gewürztraminer. A rather heady and jammy Merlot 2005 (speciality grape of this producer) with very soft tannins and stewed plum fruit was pleasantly smooth and actually stood up rather well to Spring Bok fillet with a Parsley Crepe, Truffle Mash & Juniper Jus.
Stuffed and awash with decent grub and good wine, we were then delighted to discover that our next stop-over was embarrassingly close by and so only a very short post lunch drive was needed before we rolled into Excelsior Manor House. I'd worked with Exelsior estates in the UK and had been a long-time fan of their incredibly good value, accessible and grassy green Sauvignon Blanc. The Manor House itself, stuffed with charming antiques, was a truly memorable experience. A golf buggy wobble around the extensive vineyards, a lazy read with a glass on the terrace by our room then at the suggestion of Carin, the Manager, a sun-downer bottle of Exelsior Merlot with a few pre-dinner nibbles over by the lake watching the bird-life and sun-set over the mountains.
Best of the Bunch: Excelsior "Evanthius" Cabernet Sauvignon 2007 – a very elegant yet earthy example: all eucalyptus, cassis and gravel with textured tannins and polished length. 9 / 10
The following day was all about fun rather than serious wine tasting as we headed to Viljoensdrift for a River Boat Picnic. But nothing wrong with the simple, fruity apple driven Chardonnay we chose to accompany our deli picnic for meandering down the River Breede. We greedily picked far, far too much from the Deli-counter set up which was then packed into wicker baskets with a wine cooler for our pre-chilled Chard – but you just can't get Snoek Paté anywhere else! An afternoon ramble through picturesque Franschoek and on into Paarl. Time to taste again, this time at Laborie, part of what had been the old state-run co-operative KWV and another dramatic, historic old Cape Dutch house with our rooms in the old Stable-block.
Best of the Bunch: Time for Cap Classique , the South African Champagne style fizz. For me, the best by far was the ultra smooth 55% Pinot Noir / 45% Chardonnay Laborie Brut 2008. Very citrusy with lovely touches of fennel and melon and a biscuit finish from the 2 years spent on the lees. 7.5 /10
Diemerssfontein, in Wellington are the orginal "Coffee Pinotage" people and here was my challenge to the delightful and dedicated owner, David Sonnenberg: find me a Pinotage I can fall in love with! I still struggle sometimes, with the overtly rustic, burnt coffee and meaty character of that South African peculiarity, Pinotage. And admirable as the Diemersfontein ones were, it wasn't here in Wellington that I finally had my Pinotage revelation (more soon) BUT a warm and brassy Viognier stole my taste-buds here!
Best of the Bunch: The Carpe Diem Chenin Blanc 2010 had just been awarded the top marks of 5 stars in the just published Platter's Guide but it was its sister white, the Carpe Diem Viognier with 6 months in oak that literally exploded onto my palate! Honeyed and biscuit with blowsy stone-fruit, honey-suckle and jasmine and a nutty finish – a well-deserved 8.5 /10
An afternoon Game Drive with the very funny and entertaining Matt at Villiera showed us Zebra, Spring Bok and Eagles and a a far greater appreciation of the environmental and bio-diversity schemes that a lot of the wineries stand behind. A tasting followed and although again plenty of fizzy Cap Classique showing everything from apple crumble to poppyseed, it was a rather charming Gerwürztraminer that won us over.
Best of the Bunch: Villiera Gewürztraminer 2010 gave us a perfect rendition of this audacious grape: lychee, ripe Canteloupe melon and sticky pineapple. Ginger and bacon-fat notes on the mid-palate and a waxy, very pleasant finish. 7.5 /10
Mont Destin in Paarl was an inspirational revelation as well – a tiny, top-end boutique winery with miniscule production which specialises in Rhône varietals so as this was an "extra" winery visit that I snuck in, we found ourselves sipping hearty 14% abv Shiraz blends at 09h00 in the morning!!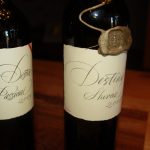 Best of the Bunch: Passioné 2009 (68% Shiraz, 13% Cinsault, 13% Mourvedre and 6% Grenache) A herbaceous nose reminiscent of the pungent "garrigue" of Provence with intense black fruit jam, coconut and liquorice with just a little cocoa – mmmm! 9 /10
Helen Brotherton
May 2012