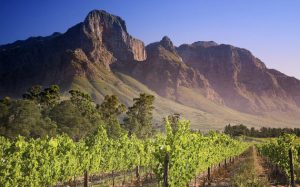 I had been introduced to good South African wines previously in my time in the UK Wine Trade and so knew of their existence, but on a recent trip to the Winelands, I wasn't quite prepared for the magical experience we had! Alas, here in Yachting Wine Supply, we accept that Owners and Charterers often "sail close to shore" when it comes to Wine choices and we are, of course, delighted to be sourcing fine Burgundies and brilliant Bordeaux but it doesn't give us much chance to explore the rest of the World's offerings. Also, here in France, we are restricted as to what, from the New World, we can find. The truth is, the South African's keep the seriously good stuff to themselves!
But hey, this was supposed to be a holiday for the FWW founders, and the brief (humph!) was to keep winery visits to a maximum of one per day – so I was quietly smug when I totted up that we'd managed to squeeze in ten during an 8 day trip! Stunning scenery, overwhelming warmth, friendliness and hospitality and an instinctive understanding that food and wine tend to go together so a fabulous array of in-house eateries and restaurants at many of the wineries.
First stop was late afternoon Tapas in a very sleek, modernist architecturally exciting winery, Steenberg in Constantia. An inspirational glass 2grape" chandelier glinted over us whilst we sipped and slurped.
Best of the Bunch: an apricot, jelly-baby and fennel flavoured Steenberg Semillon 2010 with a subtle 8 months oak ageing to give balance, warm fruit and a spicy finish. 8.5 / 10
One of the highlights was over to Walker Bay and the renowned Hemel in Aarde Valley (Heaven & Earth) and a eye-opener to New World Pinot Noir from Newton Johnson Wines. A divine lunch of line-caught fish with lime & dill salsa in the appropriately named Heaven Restaurant with an amazing view of the vineyards and valley, followed an exciting tasting with main man Bevan Newton-Johnson.
Best of the Bunch: a sublime blend of gamey farmyard and floral perfume, the Family Vineyards Pinot Noir 2010 over-delivered with a smooth textured wine with hints of tar and liquorice and a cooked raspberry flourish to finish. 9/10
The breath-taking gardens of grounds at Vergelegen, Somerset West are deservedly world renowned. What I didn't expect from such a well known, large distribution South African estate was that I'd rate their two flagship wines so highly. Both Bordeaux look-alikes and exceptionally well-made "class in a glass" acts.
Best of the Bunch: Vergelegen White 2010, a harmonious 50/50 Semillon / Sauvignon offering with a rich, opulent nose of candied lemon and tropical fruit. Exceptional poise and finesse. 9.5 /10.
Then just when you thought it couldn't get any better, the Vergelegen Red 2005 shows up and takes the crown: Blackcurrant, aniseed and cloves with a huge, complex palate. Murmers of stewed rhubarb in amongst the dense dynamic black fruit from the predominantly Cab Sauv blend, made me want to keep going back to the glass time after time. 9.5 /10.
One of the other massive plus's in South Africa was the option in many top class restaurants for one to bring your own wine. A date was set for a rendezvous with friends at the highly carnivorous Hussar's Grill in Camp's Bay where no corkage is charged, a smiling waitress brings an ice-bucket for your personal choice of white wine and suitably large polished glasses are provided for your pleasure. A starter of Calamari followed by intensely densely flavoured aged beef steaks meant the Vergelegen duo had another worthy outing. B****y marvellous!